EOL for jit.si
jit.si will be shut down on June 1st, 2016. Please see this note for more details. The following instructions are for legacy purposes only.
Set Up a Jit.si Account
Jitsi offers text, voice and video communication, as well as desktop sharing over it's own server at http://jit.si. Jit.si also supports video conferencing?.
Add a Jit.si Account to the Jitsi Software
Before you can log in to a Jit.si account you need to register:
Visit http://jit.si.
Pick a username and password.
Type the two words into the re-CAPTCHA (to confirm that you are a human and not an automated robot).
Click "Create Account".
To add your new Jit.si account to the software:
From the main menu choose File > Add new account…
In the Add new account dialog, Network drop down menu choose "XMPP" (XMPP is the technical term for a communication standard that Jit.si and many other instant messenger services use).
Enter your username followed by @jit.si (for example if your username was johnsmith you would type [email protected]).
Enter your password.
Click "Add".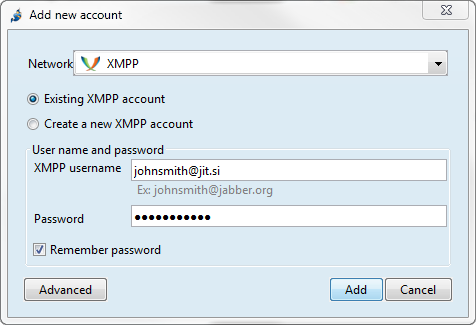 You are now ready to chat with other jit.si users. In fact, since jit.si uses the XMPP communication standard, you can use the jit.si account to chat with users on any instant messaging service that supports XMPP including Google Talk, Jabber.org, and thousands more.
How to Change Your Password
You can change the password for your Jit.si account from within the Jitsi software at any time:
From the main menu choose Tools > Options (or Jitsi > Preferences… if you're on OS X).
In the Accounts tab select the Jit.si account you want to change.
Click "Edit".
In the Account tab click "Change account password".
Enter your new password into the two text fields and click "OK" to dismiss the New Password dialog.
In the Account Registration Wizard click "Next".
Click "Sign in".
You are now logged into to Jit.si using your new password.
See Also